While the older kids were doing their Extreme Weather lapbook, Jake was busy working on his own lapbook called, "
In Like a Lion, Out Like a Lamb
" from
In the Hands of a Child
.
This particular project pack is one from their preschool line. I LOVED the way it was set up. They provide additional crafts (outside of the lapbooking itself), as well as a supply list of items to gather ahead of time for those crafts. It is set up in a 5 Day format, though we took a little longer with ours.
Jake working on his lapbook: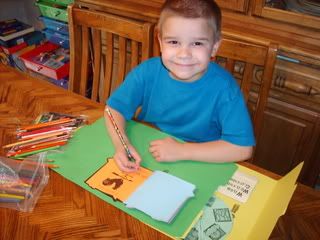 The finished product: