Jessica had so much fun doing this
lapbook
all on her own with minimal help from me. All I did was make the copies. *Ü*
Last April, she did a report on this "big house" for an assignment with
Home2Teach
Online Writing Class. So when this lapbook became available from
In The Hands of a Child
, she just "had" to have it.
Jessica says her favorite part of doing this lapbook is that she did it all on her own. She also found it amazing the number of refrigerators and telephones were in this house during an era when many people haven't even heard of refrigerators and/or telephones.
Below is her report. I couldn't figure out how to share a .doc file, so I decided to just cut and paste. *Ü*
My Dream Home

Biltmore Castle is a huge castle located in Asheville, North Carolina. The name Biltmore is a combination of two words; the first is "bildt," for the region of Holland where the family came from, and "more," is an old English word meaning upland rolling hills. This castle/home is the largest in the United States. They started building in 1889 and finished in 1895, taking a total of 6 years build this home. Amazingly, this home covers a total of 4 acres, all under one roof. This equals 175,000 sq. feet which is equal to 88 average sized homes today. This house has 250 rooms, 60 fireplaces, an indoor pool, bowling alley, and many priceless arts and antiques. The cost to build the house is unknown. They are still searching to find more receipts and documents which will give them at least an estimate to the cost of the house. I would love this house as my own home, but it has way too many rooms for me to clean.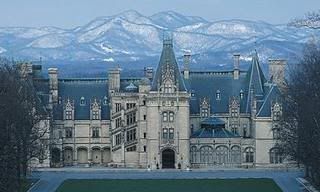 And her are some pictures of her completed lapbook. Enjoy! *Ü*