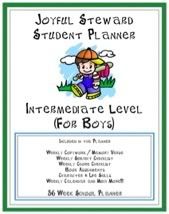 I have recently stumbled across some wonderful planners from
Notebooking Nook
, titled:
Joyful Steward Student Planners
.
The planners cover 36 weeks and provide bible verses for copywork/memorization, check lists, book reviews, and so much more.
There are planners for the Primary Level, Intermediate Level (1 for boys & 1 for girls), and Advanced Level (still in the works).
There is also a wonderful
notebookingnook yahoogroup
hosted by the creator of these planners. The file section at the yahoogroup is filled with more wonderful FREE notebooking helps & so much more.
The website Notebooking Nook also has freebies on nature studies, language arts, history, science, and the bible. They have many, many wonderful notebooking pages, on all different types of topics, at very reasonable prices.
Check out the site for samples. Enjoy! *Ü*