What fun we had learning about different types of clothing the colonist wore. One thing for sure is that we dress very differently in our time era. I for one am happy for that! I couldn't imagine wearing all those layers of clothing! Or having to wear anything made with bones. OUCH!
For our lapbooking project the kids made layered clothing booklets using transparency film. This was a LOT of work, but the kids kept a good attitude and created a wonderful finished product. Here are some samples of what they did: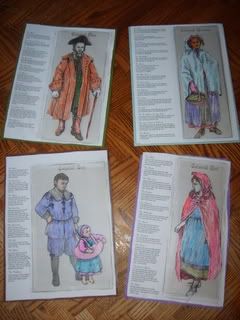 We learned where the colonist got the materials to make their clothing: sheep & plants. How they dyed them different colors using natural dyes found all around them: bark, coffee, & berries to name a few.
Prior to our co-op day I dyed several types of material by boiling them in items a colonist might use. I chose carrots, bark, coffee, & leaves. I did this prior to our gathering because I didn't want to have to wait for the materials to dry in order for us to do our activity for the day. But I did do a mock boiling/dying activity so the kids could see the whole process from start to finish.
After co-op another mom dyed pieces of material in blueberries and blackberries! We ended up with a wide variety of colored material for the kids to use on their notebooking page and lapbooking booklet. They turned out wonderful!
We also created a lapbook about the flax plant and learned about how they would make clothing material all from a plant.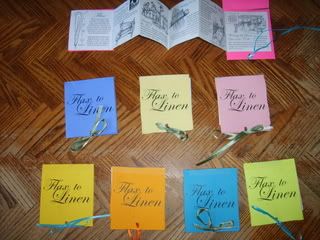 We also reviewed previous lesson by playing our trivia game, reviewed vocabulary, and talked about our copywork.