Well this week we had our first day of co-op. What a long day... Up by 7am, out of the house around 8:40am, and not home until a little after 5pm. Our first co-op starts at 9:30 and is over at 11:45am. The kids had a wonderful first day! Here are highlights from our 1st co-op day:
Jessica just LOVES her Latin class. She was reading her book:
Latin in the Christian Trivium
in the car on the way home and is excited to attend her online class in addition to her co-op class day.
Timmy and Jessica take a class together called "That's in the Bible." They both said it was great and they can't wait to get started reading scripture.
Timmy takes my 2nd period art class, so of course that was his best class of the day! *Ü* We are using
Atelier Level 4
. I will post his picture next week when it is completed. They are designing hot air balloons and mixing colors to use a wide variety of colors to paint their balloons.
Holly and Jake take my 1st period art class. We are using
Atelier Level 3
. We read a book,
A Tree is Nice
, and they drew trees (using chalk and liquid starch) showing the roots, ground, trunk, branches, and leaves. They turned out wonderful!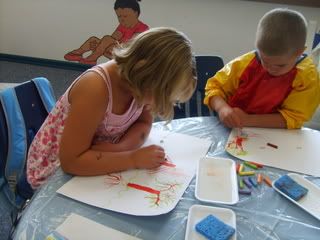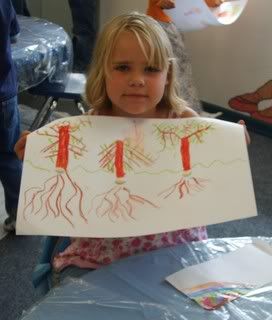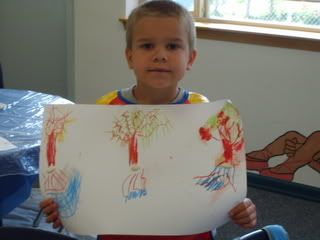 Direct quote from Jake regarding his picture: "The blue is for the water going to the roots".
Then they both take Build-A-Body Basic Anatomy class. They both had the outline of their bodies drawn on large paper. They also cut out a skull. Holly said that was gross! LOL My little girly girl. Jake said he had a great time. Of course he got to see his friends from last year so he was in heaven!
After this co-op, we headed to our friends house to have lunch and then do our 2nd co-op of the day:
Apologia Zoology 1
. Oh it was wonderful! We reviewed material the kids read during the week, we did both "Try This!", and did a little lapbooking. We built our gliders, but the kids will test them at home, record their findings, and report back at our next co-op day. By the time we were done, which was around 3:30 pm or so and after I had to run back to the 1st co-op building (I forgot my folder with my receipts, teaching notes, etc. there), we didn't get home until after 5pm. I also needed a little visiting time with adults, after my 1st co-op crazy day!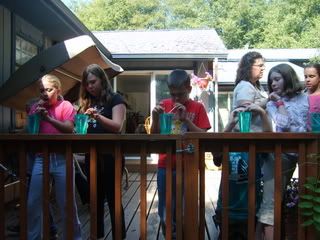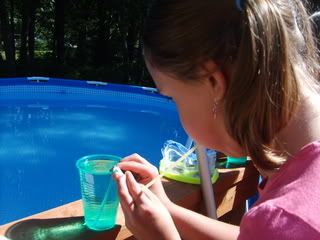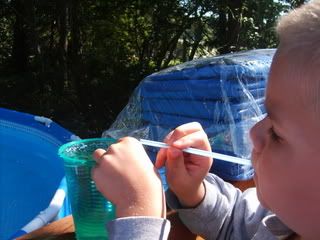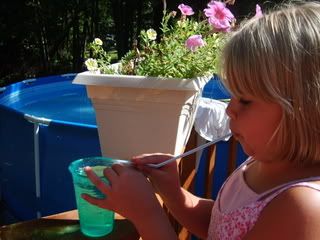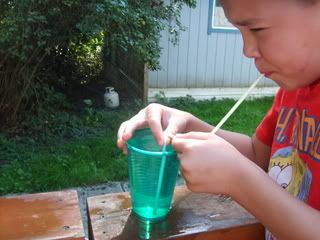 All in all, today was a WONDERFUL day and I can't wait for the rest of our year! We have made wonderful new friends, all the while cherishing the olds ones too, made changes in our homeschooling schedules/idea's that I think this is going to be one of my BEST years of homeschooling!