All I can say is WOW!
In The Hands of a Child (HOAC)
have out done themselves again! Click on this image and look for the "Freebie" button on the left hand side of the page and click on the button: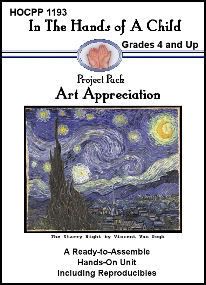 This project pack: Art Appreciation Grades 4 & Up is amazing! It covers 10 different artists and other art topics as well. Anyone can go to the Freebie section and download this wonderful e-book. It will only be available for 3 months, so hurry and download it while it is free.
And if you're a
Super Member
, remember to download the current freebie that comes out around the 15th of each month. Right now they have Beavers for Grades 3-8 and Busy as a Beaver for Early Childhood (pre-school until approx 5-6 years old). Both are wonderful too! They also have Mozart for Grades 4 & up, and I "think" this will be the last month for this Project Pack.
It is worth it to become a Super Member, as you get a free new Project Pack each month which haven't been released to the public yet. And you get all sorts of other bonus's too. Click here for more information:
HOAC Super Member
.