10 Down, 26 More to Go!
Wow, the weeks are just flying by us. *Ü* Our week was busy and full. This week also marks the last week of morning co-op until next year. We will still get together 1 more time for
Zoology
to finish up lesson 12. And after that, no more co-ops until next year. *Ü* I really like to take a lot of time off in December, just because it is a busy month for us. We will work on the basics, but not a whole lot of "extras".
Here are some highlights from week 10:
Jake is taking off with his reading and wants to read anything in sight and gives it his all even if he doesn't know the word. He was even showing off his reading skills to a friend that was visiting. He also LOVES math, right Miss Lisa! *Ü*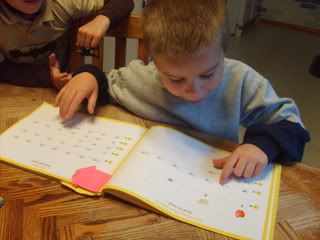 We did another day from our Russia study and oh boy are we learning so much about Russia:
* Animals & Plants
* Different types of ethnic groups in Russia
* Lake Baikal (a lake that holds more water than any other lake in the world)
* and more!
At art class Holly & Jake made a painting of their bedroom (self expression activity) & Timmy created a scene from the story A Night Before Christmas. He now wants to create all the scenes and make our own family illustrated story to share on Christmas Eve. I think I will just "have" to allow time for him to do just that. I think it is wonderful he wants to do more art activities.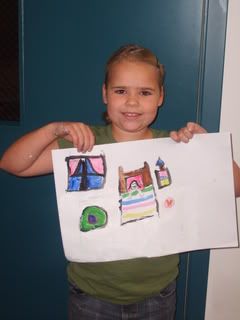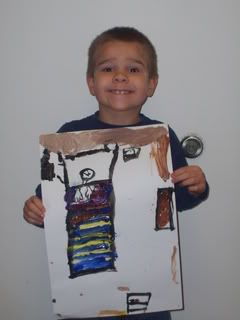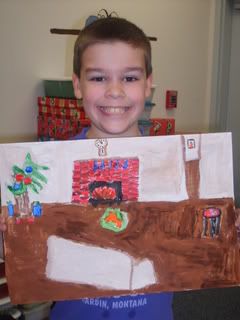 Jessica has been busy with all sorts of things this week. She has been helping Nana out a couple times over the week and made lunch for Nana while visiting with her. Her math is coming along just fine and even received a score of 100% on her last quiz.
Zoology was a lot of fun this week. We learned about Bettles, Flies, & True Bugs.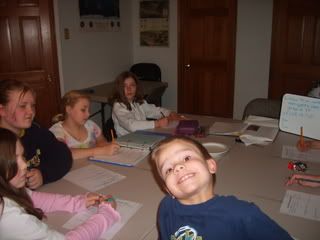 We also did an experiment that explained how a water strider can skim on the surface of the water(aka surface tension).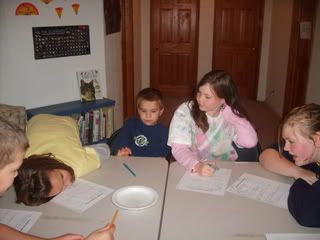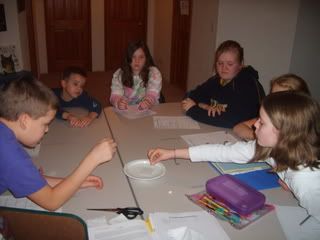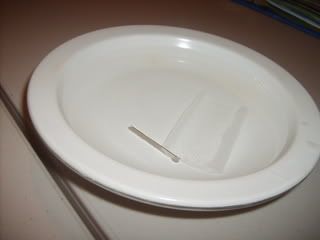 And at the end of class, we played a game called Caught in the Web. The Blue Team won! Go Blue!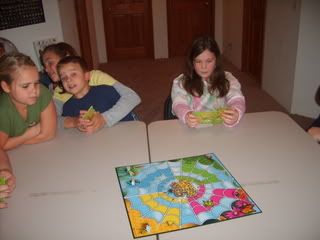 I am looking forward to this upcoming week because Timmy will begin he new writing program: Writing Tales. It looks wonderful and I think it will be perfect for his learning style. And we also placed our order for Teaching Textbooks 5 that will be availble in Jan. Timmy can't wait until his new math arrives and he can do it on the computer.
HOAC also came out with a Rock & Mineral lapbook for older and younger kids. It is the Super Membership Freebie! I am sooooo excited and I purchased a bunch of rock materials from History Scribe's Homeschool Shop: DELUXE KIT , FOSSIL KIT , TUMBLED STONES , BOX OF GEODES , HISTORY SCRIBE , HAPPY SCRIBE BOOK (already owned) & there are other items I wanted to purchase, but they aren't available yet. *Ü* Did I over do it? *Ü* We will start our rock study in January. To read more about Rocks and Minerals check out Rock Hound Kids.
Have a Wonderful Thanksgivings Day and thank you for taking a peek into our school happenings!
PS: in case you were waiting to see the post about the lapbook Jessica did all on her own, I finally posted about it yesterday. Please take a peek and the post and if you would kindly leave a comment for her, I know it will encourage her and bring a big smile to her lips. Here is a short cut to the post in case you can't find it: The Biltmore House.