Sorry this took a while to post. I just wasn't certain what I would say, how much to share, etc. Seems I got a little long winded anyways. *Ü*
We arrived at the hospital at 7am. Did a quick check in and then off to the surgery waiting area. The nurse Timmy had was wonderful! She made him feel very comfortable. And she made us feel comfortable too.
The anesthesiologist was a funny character. He was asking Timmy all kinds of math questions (converting pounds to kg) and Timmy just stared at the guy. I told him that Timmy couldn't even remember his name when asked a while ago, let alone be able to answer any questions like that. Then he told Timmy, "See you later Alligator." And then asked Timmy what he was suppose to say. Timmy just stared at him... again... The poor kid was overwhelmed. But all in all the anesthesiologist was a very nice guy and was just trying to make Timmy feel comfortable with him. He (the anesthesiologist) just struck me as a little odd. *Ü*
Surgery started at approximately 8:30am and was scheduled for 1 1/2 hours. Therefore he would be done and in recovery at, or around, 10 am. At 10:45 am I was wondering why we hadn't heard anything yet. At 11 am Greg went to the desk to find out the status of Timmy's surgery. They said all was well and the Dr. was taking his time and being very careful.
At 11:45 am we still hadn't heard anything. At 12pm Greg went to the front desk again to check on Timmy's status and he was told they just finished up, that Timmy was in recovery, and that the Dr. should be down anytime to let us know how things went. The total operation took 3 1/2 hours.
I can't begin to tell you the thoughts, worries, etc. I was going threw during those extra 2 hours of "unknown". I couldn't concentrate on anything. I brought my Christmas cards and filled out a lot of them during that time, but after about an hour I just couldn't sit any more. I was amazed that Greg could sit there and read his book. My mind was all over the place. There is no way I could concentrate on reading... I guess that is just another difference between us gals and guys.
My brother and sister-in-law arrived around noon to be with us and Timmy. I am so thankful they came. It really helped distract me from my woes. I really enjoy spending time with both of them and feel so blessed they traveled to come and spend the day with us.
What did the Dr. have to say you ask....? The Dr. said it took longer because there are so many nerves, etc and with how deep they had to go he just had to take his time to make sure not to damage any nerves, etc. He told us that at the end of the operation, he turned Timmy's hand and it went flat, palm up, no problem! Praise the Lord!!!
The Dr. did say he wanted Timmy to stay the night so he could have access to stronger medicine because of the operation. He also put a shunt in his arm as well and that had to be removed in the morning before he could go home. He also told us Timmy had a 4" incision in his leg and about the same size incision in his arm. OUCH!
Around 1pm we were able to head up to the hospital room and see our boy. Right way I started to get teary eyed. My baby looked so out of it. I felt so helpless... But I quickly sucked it up, thanked God for pulling him through this, put on a happy face. He didn't need to see me like that!
We all visited with Timmy a little while, he slept a lot that day. After some time, Greg, his brother and his wife left and went to our house. They picked up the other kids and took them out to dinner and then brought them to the hospital to see their brother. They are wonderful siblings!
Have you heard about pets visiting people in the hospitals Well it just so happens that on the day Timmy was there, a gal and her Great Dane were making their rounds. Boy that dog is BIG! Scooby Doo is a Great Dane. *Ü*
During the time Greg was away, my dear friend Lisa (Lisawa to some of you), and her DD stopped by for a visit. It was wonderful to see her. She was my rock that day. My mom was out of town and couldn't be there, therefore I called Lisa when I was feeling low/worrisome while Timmy was in surgery. Side Note: It also reminded me of a time several years back when Timmy was bit by my mom 's dog and had to go to the ER. Greg was out of town (in Japan), and Lisa and another friend Charlyn came to be with me and Timmy at the hospital. I thank God for the special friendships he has given me. *Ü*
While the kids were at the hospital, Grandma and Grandpa stopped by for a visit. Timmy was sure happy to see them too! *Ü* What a lucky boy to have so many folks stop by and wish him well.
After everyone left, I took the kids back home, picked up a couple things that I didn't tell Greg I needed for spending the night, and returned to the hospital. Greg then said goodnight to Timmy and headed home to be with the other kid-o's.
Timmy had a hard time shaking off the drugs that were in his system. He couldn't hold anything down that whole day. As I mentioned earlier, he slept a lot of the day away. At 1 am he wanted to go for a walk. So up we went, out into the hallway and walked around the floor (wing-area he was stying) of the hospital. I was amazed at his strength, determination, and his ability to bounce back so wonderfully!
I am pleased to say Timmy is doing WONDERFULLY! So much better than I expected. He moves around pretty good now and isn't in much pain. We see the Dr. on Thursday and I will let you all know how that appointment goes.
Thank you all for your thoughts, prayers, and well wishes! *Ü*
Dad and Son watching some TV:

At home recovering: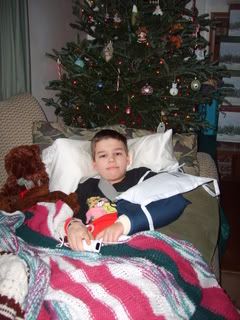 A gift arrived in the mail from Grandpa and Grandma: