Homeschoolestore's weekly freebie
is a lapbook by
In the Hands of a Child
. It is titled
Sled Dogs
and is for grades 3-8, but they can easily be adjusted for lower or higher grades.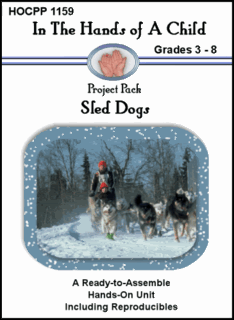 Make sure you head on over to
Homeschoolestore
(not Hands of a Child) and get the
weekly freebie
! Hurry because next Monday (1-7) this one will not free anymore.
And while you are there, make sure you sign up for their weekly newsletter to receiver the detail on each weeks freebie. You must first create an account with them and then on "My Account" page there will be a link you can click on that will take you the subscribe page.
I own this lapbook, but haven't done this one yet. It is great for anyone that wants to know the history of sled dogs, different types of sled dogs, racing, communication, musher commands, equipment costs and more. This is a great add on for anyone that is studying places that they use sled dogs. For example, in Russia (a country we are currently studying), they use sled dogs quite a bit to travel in Siberia. Hummmm, I think I see another lapbook project in our near future. *Ü*