* Above is Lightning Literature7. I really think we will enjoy this curriculum. I think between this curr. and Latin that we really won't need to focus on a full grammar/language course. She will be getting lots of grammar and language in both those curriculum's.
* The orange book is Wordly Wise. We will be moving onto the next book soon. She really doesn't need to use this book, but she enjoys vocabulary so much, she doesn't want to stop using this book. So for now, we will let her continue using it.
* One of her research guides for grammar is The Blue Book of Grammar and Punctuation. It is very easy to use and will be a great guide to look up something quickly.
* Apples: Daily Spelling Drill for Secondary Students will be her spelling curriculum. She will do 1 page a day as a basic review for spelling.
* She will also be taking Home2Teach online writing course. I couldn't recommend the course highly enough. This is our 2nd year using them and Jessica's writing has improved greatly. I like the fact that they work directly with my daughter with correcting any errors in her writing. Teaching is NOT left up to me. And there is a bonus... I too am learning from this class!

* We just LOVE Teaching Textbooks! She is 1/2 way through the book. Once she has completed this book, she will move onto pre-algebra. It is very easy to use, educational, and so much fun! It is the perfect curriculum for a parent that struggles with upper math, as it walks through each problem, step by step.
* My GREAT find for this year is Happy Scribe copybooks . I purchased the cd that has all their copybooks on 1 cd. Some of the titles include: Lord of the Rings, Military Forces, Pets, video games, flowers, birds, and so much more... I will let the kids pick out which topic the will like to work on, print the sheets out that go with the topic, and let them have fun! They are excited to use these this year too.
* Mystery of History... Well I don't know what to say about this one... Since we started Time Travelers Colonial Life study this summer, I may drop MOH this year and continue with these studies for the upcoming year, and do some of their Hands-On History Activity Paks. I still haven't made up my mind, but at least I have a little while until we start up school on 9-10-07. *Ü*
* Something I wanted to do with Jessica last year was Washington State History from State History from a Christian Perspective. We didn't get around to it. So I will keep it with her school work crate, just in case we get the chance to work on it this year. This is a wonderful course that I used at our co-op last year. It is laid out with different schedules for you to use; 10 day, 1/2 year, or a full year course.

* The curriculum Jessica is really excited about this year is... Latin in the Christian Trivium. She will be taking this class at co-op and the co-authors daughter is her teacher! What a blessing this is for us! I say us because... I don't feel confident enough to teach Latin on my own. *Ü*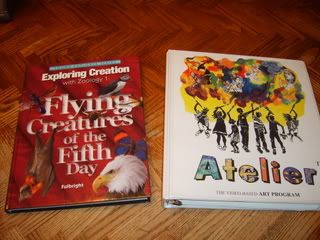 * Jessica will also do Atelier Art at home and will take a class called: "That's in the Bible" at co-op. We will also participate in another co-op doing our science: Apologia Zoology 1. Something else I want to add for all the kids is Home Economics for Home Schoolers. We would do this 1 day each week. And a friend of mine may teach a sewing class for kids. If that happens, it would be every other week. I can definitely handle that. *Ü*
When we break it down here is how it looks:
Math: Teaching Textbooks 7
Science: Apologia Zoology 1
History: Mystery of History or Time Travelers CD's
Art: Atelier Art
Literature: Lightning Lit & Comp 7
Bible: That's in the Bible
Language: Apples Spelling, Wordly Wise, Happy Scribe, Home2Teach
Foreign Language: Latin in the Christian Trivium
PE: Swimming
Home Ec: Home Economics for Home Schoolers and possibly
a sewing class to boot!
Extra: Washington State History, Lapbooks, and other reading material
I will post our schedules when we get closer to starting school next month.
One child done...3 more to go...