This week was short and sweet as we went on a family vacation from Wednesday
-
Saturday. We didn't go far, just to Everett and then spent the time doing all sorts of family activities in Seattle. What a beautiful city it is!
Monday:
Everyone did school except for Timmy. He was happy I let him off for the day.
Jessica attended her last Online Narrative Writing class until Oct. Her next online writing class will be Elementary Report Writing. She really enjoys
Home2Teach
and I plan on using for as long as we are able to.
Nothing too exciting happened this day, just a normal school day...
Tuesday:
We didn't get a lot done today, as I was getting ready to leave on vacation the following day. And I was busy getting all my co-op class items pulled together for the facilitators that were teaching for me while we were away playing. Thank you Charlyn and Pam for taking over my class for me.
Jessica did get to attend 2 online Latin Classes and thoroughly enjoyed both of them.
Wednesday:
Today we headed off for our family vacation. Like I mentioned earlier, we didn't head far, but had a wonderful time!
Greg has always wanted to go to Old Country Buffet. So this is the place we went for dinner. All we have to say is it was our 1st and last Old Country Buffet experience.
Thursday:
The kids started out the morning by spending some time in the hotel pool and hot tub. Poor Timmy, since he was in a cast he didn't get to swim. But we did allow him to go in the pool and tub, but his arm had to stay on a towel a the edge of both places. I am surprised he even wanted to do that. But I guess being in the water a little is better than not going in at all...
Then we headed out for an adventure at
Pike Place Market
. We spent several hours here just browsing all the shops. We even got the chance to see them throw fish around at the
Pike Place Fish Market
. We picked up some goodies while walking around; a few "must have" items at a bakery, smoked salmon at the fish market, big jaw breakers of the kids, some maple smoked jerky, a few other items, and a Polish Pottery Piggy Bank for ME!
After Pike Place Market, we went to the
Seattle Aquarium
for a quick tour. We haven't been there since they remolded the place and it looked wonderful! I loved the full wall aquarium that you see at the beginning of the tour.
For dinner, we went to Izzy's Pizza for their buffet. It was pretty yummy!
Friday:
Today we headed off to the
Pacific Science Center
. When we first arrived there, we went to see the Imax show "
Dinosaurs Alive 3-D
". It was a great show. I jumped 3 times and the kids jumped at times too.
After the show, we toured the Butterfly House, and walked around
main exhibit area
. We even did a simulation of a roller coaster ride that was amazing. Now this is my type of roller coaster ride. No risk involved with my life! We watched some bubble demonstrations and had a wonderful learning experience.
By now, our tummy's were very hungry! So we heading off to the Food Court at the
Seattle Center
, which was right next door. Jessica said she knew where we had to eat at. It is a place she has gone with another
family
a few times and loved it. It is
Quincy's Burgers
! And boy was it GOOOOOD!
Afterwards went went to see the special exhibit:
Colossal Fossils
. The kids loved digging for dinosaur bones and watching the special movies they had on display.
(no pictures yet as DH is fixing his computer and that is where the pictures are stored)
After we were done with the exhibit, we went for a
monorail ride
to
Westlake Center
, a large mall. When we arrived to Westlake, we heading to
Godiva Chocolatier
and everyone got to pick out one piece of chocolate. Of course that didn't apply to us grown-ups. Then we got on the monorail and headed back to the Seattle Center, then got in the car and heading back to the hotel.
Passing out chocolates: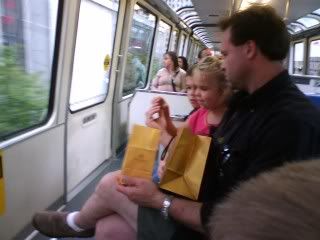 What a fun filled day!
Saturday:
Today we just spent the morning milling around the hotel, letting the kids swim and taking our time until check out time. Once we left the hotel, we went to
Mukilteo Lighthouse
. What a pretty place. This isn't a large lighthouse, it was used more to tell the ships to turn here to continue passage through the straits.
(scroll over pictures to read captions)
Then we heading off to
Point Defiance Zoo and Aquarium
. This is one of our favorite places to go. They have been remodeling the zoo the past few years and it is getting better and better with each visit we make to the zoo. While there, we were able to watch them feed the walrus's, clean ET's (the male walrus) teeth, have them do a few tricks, etc.
(no picture yet as DH is fixing his computer and that is where the picture are stored)
After our stop at the zoo, we went to for dinner at Famous Daves BBQ! OH IT WAS SO GOOD! We have been to the one in Montanna last summer on our way to Yellowstone and just loved it. We told them them must get one out our way. Well unknow to us, they had one in Tacoma for about a year and a half. We are all very happy that this resturant is in our area!
And that concludes our Weekly Report: Week 2