Here are highlights from Week 3!
We are still finding our back to school groove. And it didn't help much to have vacation the 2nd week of school.
For our 30 min quite reading time, we made a trip to the library. The kids each picked out some books to read and I picked out a few more so they had more options for a week. I also picked up some videos that go along with our TT Colonial Life Study.
Jessica didn't pick anything out. She is reading Tom Sawyer for Lightning Lit. 7 and reading Series of Unfortunate Events Bk 5. She didn't want to get any more books. But she did enjoy the trip. We even ran into friends at the library... and the same friends at Costco after we were done with the library! The kids thought that was funny! I thought they were following us. LOL
Below is what Timmy picked out. He is also reading Series of Unfortunate Events Bk 1, so he only picked out 2 books.
Below is what Ms. Holly picked out:
Below is what Jake picked out:
We started our Home Ecconomics program and the kids recorded what they had for 1 meal all week long. They had fun doing this and I thought it was great to see it "click" for them which food groups belong in which nutrition category. Here is Jessica's paper:
They also colored in the picture that goes with the lesson:
At Co-op, Jake and Holly finished up their skeltons. Holly is so silly... she really dislikes this type of stuff. I asked her to hold skelton so I could get a picture and here is what she did:
And of course little brother had to follow suit...
Here is what Jake and Holly made during art class. They didn't use any scissors. All the paper was torn by hand. It is called "Playful Penguins".
In Timmy's art class they did a stormy weather picture with water colors and silhouettes. This class was allowed to use scissors for their masterpieces!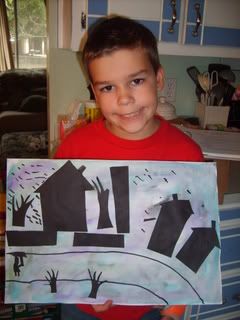 For our Zoology Co-op Class, they were hard at work completing their booklets for class. I sure am impressed with Live and Learn's folds.
Jessica LOVES her Latin Class. She loves her Teacher because she makes class so much fun! I am now considering purchasing the teacher manual so I can follow along and let Jessica teach "ME" Latin. I know she will be the perfect teacher!
And that concludes our highlights from Week 3!