We had a very busy week, which included a field trip on Friday!
Jake took his first math test and recieved a 97%! He is one smart cookie and loves math and asks to do extra days in the subject almost daily.
Jessica and Timmy were hard at work listening (yes, audio) to the Bible (Mark and Luke), for their
"That's in the Bible"
class at co-op. They both love this class and the teacher. They say his is very funny.
In Jake and Holly's art class, they learned about contour lines. These are the outside lines we see of any object. The kids had to look at the picture and have their hands move their pencil while their eyes moved along the outside line of the object they were looking at. When they looked at their paper, they were to stop moving their pencil. We didn't get this project finished this week, and will be completing it next week. So no pictures this week of their projects.
In Timmy's class, they learned about contour lines as well. A few of the students were models and the kids drew the contour lines of each child in different posses. Jake happened to be in that class with me (he wasn't feeling to well), and he was one of the models. Here is Timmy's completed project: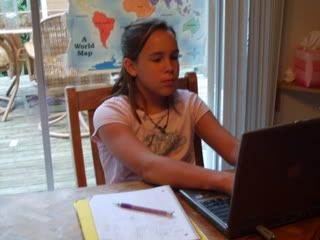 And she also completed the art activity Timmy did last week:
Here is a picture of all the kids working on their coloring page for
Home Ec.
This week we talking about peeling carrots and potatoes. They all got a chance to peel something through out the week. I never realized Timmy hasn't peeled anything before. Glad this came up in the course. But he will have to wait to peel until that cast comes off on Monday.
We also played some math games. Here is a picture of the kids playing math bingo: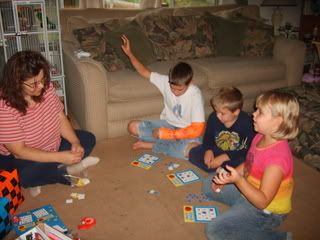 For Zoology "Try This!" experiment, the kids had to find insects, observe how they move in the bug jar, place them in the refrigerator for a few hours and document how fast they move after being in the frig for a while. Since insects are cold-blooded, their movement slowed down. Here are the pictures of the bugs they collected and some of their work:
Also at Zoology, we played a mean game of Insect Trivia. The kids had a blast playing this game!
The highlight of the week is the field trip we took on Friday to Pioneer Farms! This was a wrap up field trip for our Time Travelers Colonial Life Study. We all had a wonderful time learning "Hands-On" about life on a pioneer homestead.
The kids went inside a real replica of a prairie school house. They lined up the way boys and girls would line up for school back then, ladies went first into the schoolhouse, and they sat on opposite sides of the schoolroom. We listened to a wonderful talk about a typical school day.

We also went into a real pioneer homestead house that was moved to the site a few years back. All the items were the original owners and many of the items were over 100 years old.

Then it was off to a large wooden home that is used for doing all sorts of hands on activities. They grinded up coffee, wheat, & corn, rolled dough, chopped veggies, whipped cream for butter, washed laundry on a washing board, and so much more! All of these things would have been daily chores on a pioneer farm. I don't think my kids could handle all that work...

After this we headed to the barn and learned about different types chores that needed to be taken care of on a farm. The kids were able to gather eggs, chase chickens, milk a cow, pet a pig, sheep, goat, bunny, and play in a hay loft! I just love this type of stuff!

Then it was off to the blacksmith shop. The kids actually got to stock the fire, bring out a horse shoe that was blazing red, and pound it flat on the mantle. They also played in the wood shop where they could pound nails in a board, and lift things with pulleys.

Oh and when we first arrived, they went on a horse drawn buggy ride. What a fun day!

Here are some pictures, but I will add more in another post when I get some from other fellow fieldtrip goers...