6 Down and 30 More to Go!
What a busy, fun filled week we all had! Our "school" week started off on
Saturday
night we when we all sat down to watch a National Geographic DVD on
Lewis and Clark: Great Journey West
. That got the kids excitement up to want to learn more about these two amazing men and their incredible journey.
Some pictures to share:

On
Sunday
, we took a peek at a
Lewis and Clark Traveling Trunk
that was filled will all sorts of information and hands on items for the kids to touch. They touched buffalo fur, hide, and a tendon (called
buffalo sinew
) that Indians used for making their bow string,
peace medal
, plants & seeds, and so much more. The trunk was AMAZING and included a teacher guide. I will be looking into renting this trunk and others in the future. It is very hands on!
With the kid now having the Lewis and Clark "Bug", they wanted to make a lapbook. Yes, it was their idea. So I located a free one here:
FREE Lewis and Clark Lapbook
. Below is a couple of pictures. It isn't completed yet, but will be by the end of next week. You will notice that this isn't done in typical lapbook format. We used those 3 prong pocket folders and card stock. This way I can add activity sheets to their study and keep it with the mini books.
(Holly and Jake didn't complete the lapbooks)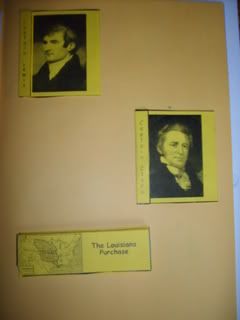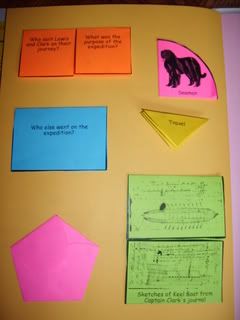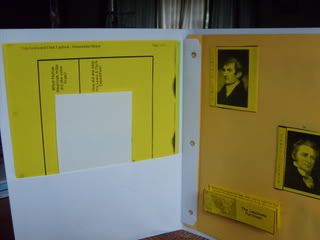 And as a bonus, my little girl Jessica is on a trip with
LisaWa
and girls to the trail head of Lewis and Clark's:
Corps of Discovery
journey!
Side Track....
Last Friday
, Ms. Holly found a "ton" of caterpillars at her friends house. She wanted to make a insect zoo (part of our
zoology 1
study). So on
Saturday
she got to work. 1st she found a container, dad helped put holes in the lid with a hot poker thingy so they would have air. The she went out side and found grass, rocks, and bamboo sticks and created a nice little habitat for her furry creatures. Here are some photo's: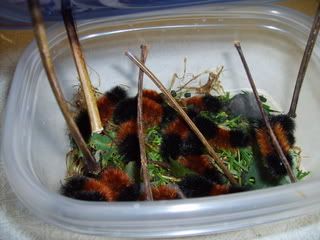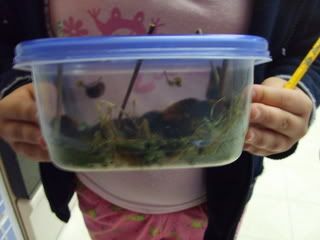 She has cleaned it out a couple times and is very good at gathering fresh leaves daily. The caterpillars like the broccoli leaves best.
On
Monday
we watched 2 DVD's on Colonial Life that would have been part of our
Colonial Life
Study from Amy Pak. We didn't get around to watching them until today. The titles are:
Colonial Life for Children: Jamestown and Pilmoth Plantation by Schlessinger Media
. We checked them out from our local library, so check your library too and see if they have these wonderful movies. If they don't have it, request to have them purchase it.
Tuesday
was Jessica's
Online Latin Class
. I am amazed at how well she is learning Latin. I was watching her for a while and the teacher kept giving her a VG (means very good). It is all Greek (LOL) to me. I am planning on getting the teacher manual so I can try and understand what it is she is doing. Here is a picture of a story that was writing in Latin and she translated it (most from memory) into english: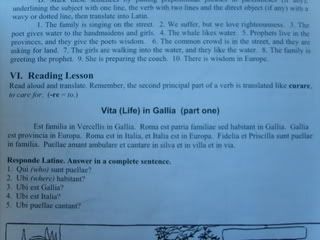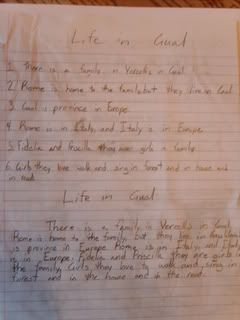 On Wednesday we changed our Walking Sticks Habitat. Jessica and Holly dumped out the dirt that was in there and replaced it with sand. Jessica gathered new blackberry twigs with leaves. I changed the bowl, added fresh water, placed it in the tank and stuck the twigs in the water and arranged them so the walking stick could climb to their hearts content.
While we were doing this, we were careful to try and find their eggs before we dumped the old dirt. Jessica counted over 100 eggs. We separated some out into a separate container (web research told us we could do this), added a little twig and will continue to keep the sand moist so hopefully they will hatch. They can take from 10-12 weeks to hatch. But some of them may not be fertilized.
Enjoy the habitat change pictures:

Thursday
was co-op day. First it was off to co-op where the kids take art (Timmy, Holly, and Jake), Latin (Jessica), Human Body (Holly & Jake) , and That's in the Bible (Jessica and Timmy).
Below are some pictures of Holly and Jake's masterpieces. Using thin packing material (the type for plates), they cut out different shapes and glued them onto pre-cut square cardboard, coated them with paint, and then created a stamping pattern with their homemade stamps.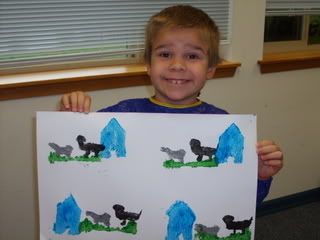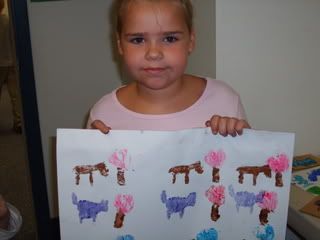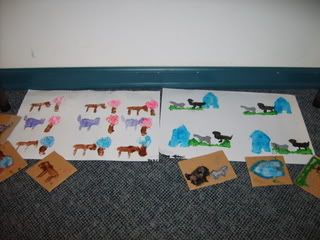 Timmy Created a fall farm scene using color crayons and water colors.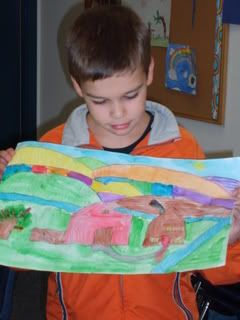 At Zoology Co-op, we went on an Egg Dectitve Hunt, looked at Stick Bugs, reviewed reading material, Holly gave a presentation on her Caterpillar Zoo, and we played
Creepy Crawly Critters JINGO
. It was another fun filled science day!
And for the cultural event of the week, today (
Saturday
) we are heading to a
Lutefisk
dinner. Greg's side of the family (his Dad's side), are Norwegian. This even only happens 3 times a year in our area and today is the 1st one of the year. So our family is going, Greg's Dad, Grandma, Aunt and cousin will be there too. I will post more on this event later today. And no, I do not eat Lutefisk... I go for the meatballs and lefse.
And some extra photos:
Jakes Math Test: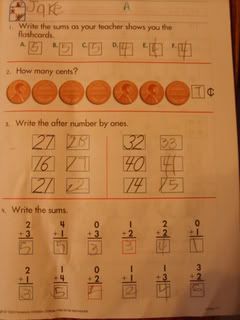 Timmy's Growing With Grammar: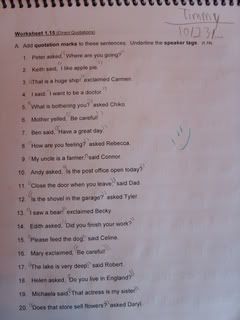 And Holly's Explode the Code work: