Wow, it feels like the weeks are moving slower and slower. It must be this WA gray, cold, fall weather....
9 Weeks Down, and 27 More Weeks to Go! *Ü*
Russia Study:

This week we began our Russia Study. They are creating a Travel Journal as they learn about different parts of this country. Here are some highlights that we learned about from the study:
* Communism (how it began in Russia and it's collapse)
* Largest Continent in the World (and types of landscapes)
With our busy week, we didn't get all the activities/reading done of this weeks study. But we will make catch up this week.
We are fortunate enough to have a dear friend that is in the process of creating these wonderful unit studies and allowed our family to pre-test them. Keep your eye out for other countries studies we will be doing as well as for further information about when the curriculum will be available to purchase. *Ü*


Biltmore Lapbook:
In the beginning of the year, Jessica did a report for her writing class on the Biltmore House. She was so excited to learn that there was a lapbook for this topic. She did this lapbook from In The Hands of a Child completely on her own over a 4 day period. For more information about what she did click here: Biltmore Lapbook and you will be taken to a post specifically for this lapbook. Here is a picture in the meantime: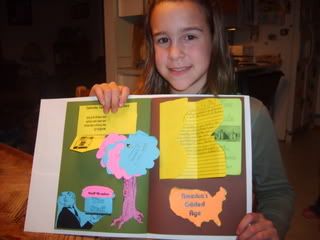 Jake took another test and received an 100%. He LOVES math!
Jessica took a quiz and received 100%. She uses Teaching Textbooks, and it is all done via the computer (expect the work she needs to do to figure out the answer) so I am unable to share a picture of the quiz.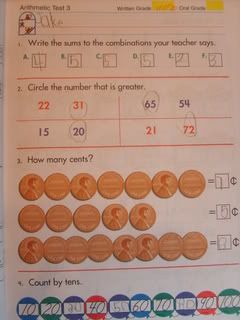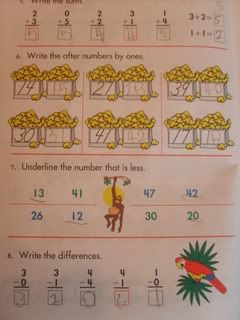 At our morning Co-op, for art Jake and Holly made Cat in the Hat pictures and a Cat in the Hat search and find picture. Timmy completed his self portrait.


Build a Body class, Holly said her and Jake did an experiment (can't retell what they did as I don't fully understand what she was saying. *Ü* LOL ), and a couple weeks ago they got to touch a real cow tongue. Holly touched the cow tongue, but said it was gross. Jake said the tongue had a big huge hole in it. He doesn't know why... but that part stuck out to him, even 2 weeks later. *Ü*
In Latin class, Jessica and her partner was the first to complete a quiz at the chalk board. The 2 girls were very proud of themselves and say that they are both the youngest and smartest of the class. Hum... I think a lesson in humility is in order... *Ü* Jessica's teacher says she is doing a fantastic job. I don't do anything to help her with Latin (though my TM should be arriving soon), it is all her studying, co-op class, and her online class she is taking. We are very proud of her.
At our Zoology Co-op we studied bee's a little more in depth. We tasted honey (creamed honey was the favorite), had honey from a real honey comb, ate the honey comb, had honey candy & sticks, and tasted bee pollen. We even had some older siblings join in the taste test. *Ü* We also learned about Ants and Termites. Included withe the picture are some photo's of the lapbook work the kids are doing for Zoology 1.
I wanted to share a couple other activities that Jessica has done for Latin. Her timeline (did a few lessons ago, but finally sharing) & her map work from this weeks lesson.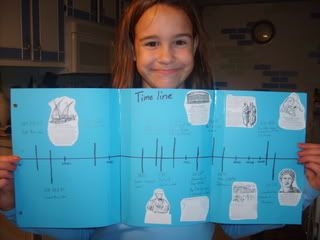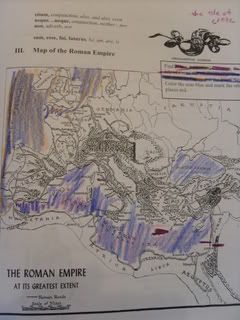 Extras:
On Friday, we went out to lunch with Nana (Kid's Great Grandma) and spent a little extra time with her. By the time we ran our errands afterwards, it was dinner time. We didn't get school done on Friday, but we will complete it on Sunday. *Ü*
And that concludes Weekly Report: Week 9. *Ü* Until next weeks report... Have a wonderful week!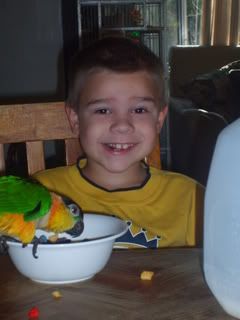 Coconut eating Jake's breakfast!