Yesterday was the day we found out what the next step will be. Yes... he will need surgery. He is a little nervous about all this, but all and all I think he is doing fine. He knows it has to be done and there is no way out of it. It is scheduled for 2 weeks and he might be able to come home the same day, as long as he is doing ok.
They will remove the extra bone that connected the 2 bones together and will be taking some of his tendon from his thigh and placing it where they removed the bone to help stop new bone growth to form. Please pray that this works. If not, then the next step might be surgery again or radiation.
The bonus is that he also has a floating bone (isn't attached to anything, just floating in his muscle tissue) that developed during the healing process and they will be removing that as well. Man, this kid just has amazing bone growth!
After the surgery, he will rest for 2 weeks and then it is back to physical therapy. The Dr. feels he will heal just fine. He won't have 100% use of his hand (turning the palm upright) like before, but it will be much much better than what he has now. There is a possibility when he gets older he may need this procedure again.
Please continue to keep praying for Dr. wisdom, the hospital staff, and that Timmy heals properly and is given a sense of peace about the whole procedure.
Thank you for praying for him.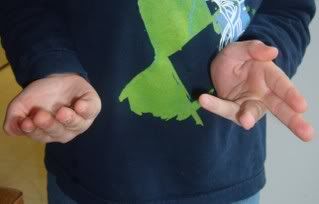 A picture of Timmy's hand for those visual folks. *Ü*
For more information/past posts click here: Timmy