12 Weeks Down, 24 More to Go!

What a busy-full week we had. Here are some highlights:

Jessica completed her Russia report and completed Elementary Report Writing class from Home2teach. She also received an Honors Certificate! It was 7 pages long, but only 2 pages were the actual report. The rest was the title page, outline, cover page, map, & reference. She did a wonderful job! Below is her report (the 2 pages only). To read her report, please click here: Mesmerizing Russia

I also started her on a geography curriculum: Runkles Geography. She is LOVING this book. She is only on lesson 2, but it is one she is even pulling out this week to do, even though we have no assigned schoolwork (Christmas Break). Here are a couple pictures of her doing the activities: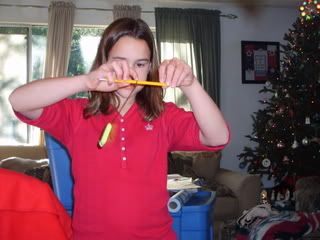 Centrifugal Force (Sun-pencil & Earth-eraser)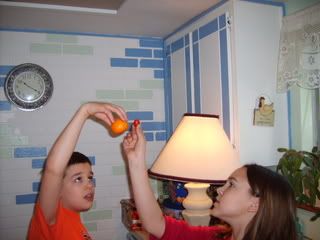 Lunar Eclipse (lamp-sun, tomato-moon, orange-earth)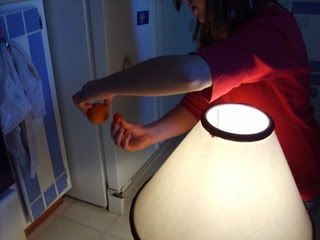 Timmy was busy writing his own story this week as well. He re-wrote the Aesop's fable, "The Crow and the Pitcher". His story is titled, "The Cat and the Tall Glass of Milk". Here is his very own story:
The Cat and the Tall Glass

There once was a cat named Whiskers that was dying of thirst. She came across a tall glass of milk. But the glass was too tall and she could not reach the milk. Then a thought came to her to drop cat food in the tall glass. Twenty nine times she dropped cat food into the tall glass. She saw the milk mount up near enough for her to drink. Then she quenched her thirst and saved her life.

Moral: Little by little does the trick.
He currently working on "The Town Mouse & the Country Mouse". Timmy is really enjoying
Writing Tales
. His only complaint would be vocabulary. He doesn't like to look up words in the dictionary.
Jessica and Timmy also did a little more research on their Russia study. Among other things, they mapped where the Mammoths were found on their Russia Map.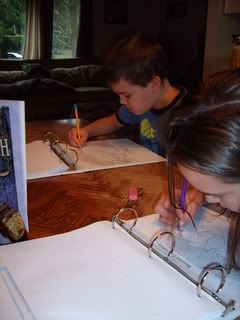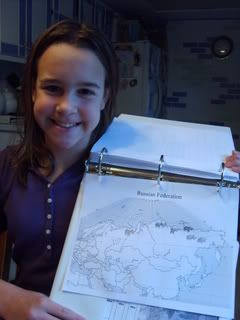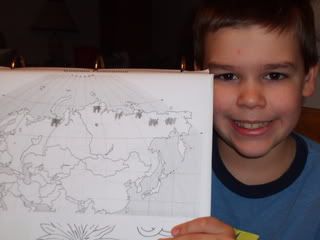 Holly is hard at work with the 3 division table and I think she is getting it down better this time around. I can say math is not one of her favorite subjects.
Jake on the other hand LOVES his math homework and is always asking to do more. Which is fine by me.
All the kids are working on a
Symbols Christmas Lapbook from In The Hands of a Child
. Timmy and Jake are working
"You're a Mean One, Mr. Grinch" from Live and Learn Press
. We are also using notebooking pages from
History Scribe called "History of Christmas".
We read the top section of the notebooking page, then they draw a picture of what they are learning about, and at the bottom they write in their own words what the notebooking page is about. It has been a lot of fun.
Another fun thing they are doing is an
Advent Copybook
that lady from the Well Trained Mind board created. It is nicely done for Timmy (cursive), Holly and Jake (manuscript). But for Jessica she is coping scripture about the birth of Jesus.
Enjoy some extra pictures from Jetihoja Academy!
Typical School Day:
Working on History Scribe Christmas Notebooking Pages: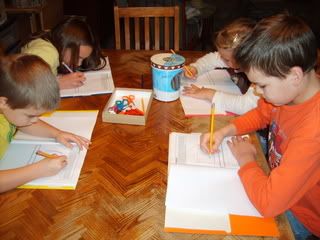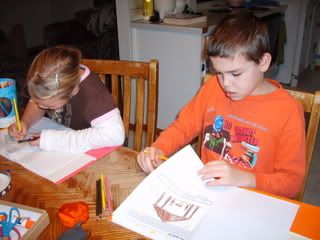 Timmy Working on Lesson 3 Writing Tales Sentence Stripes: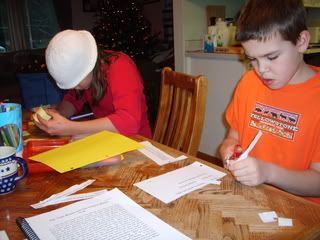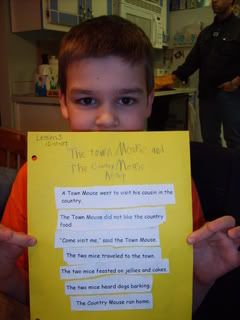 Working on HOAC Christmas Symbols Lapbook: