7 Down, 29 More To Go!
This is a little late due to the fact we were out of town from Friday-Monday. I can't remember all we did, but I will provide a few highlights from last week.
Jessica was blessed to go down to OR to see the Lewis and Clark Trail, their fort and so much more. She had a wonderful time and learned so much. We will be making a separate post about her trip so keep checking back from more information on her trip.
The kids were busy working on their
Zoology 1 lapbooks
. We are currently on Lesson 10. I am excited to say I am even learning along with the kids. I know know what the differences between complete and the 2 different types of incomplete metamorphosis. Well I knew about complete, but it never really clicked about the 2 different types of incomplete with me before this study (ex: nymphs vs. naiads). And the kids are retaining the information wonderfully.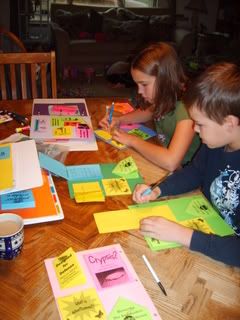 Jessica took her Latin Test 2 and received an 87%. She did well on the Latin part of the test, but didn't quite have the culture/history part down. Still a B is pretty good in my book. And she is proud of herself too.
Here are some pictures from the kid's art class (
Atelier
). Jake and Holly did "The Polar Express" art project. Timmy did a City Stamping art project. It was similar to what Jake and Holly did last week, but a little more in-depth. He enjoyed creating his own stamps and using them to create his city.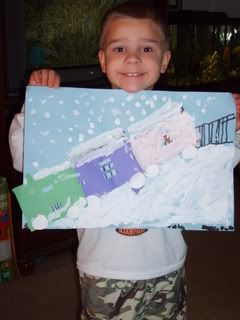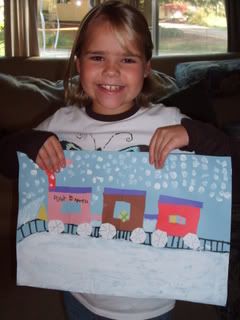 (will add a picture of Timmy holding the picture ASAP.)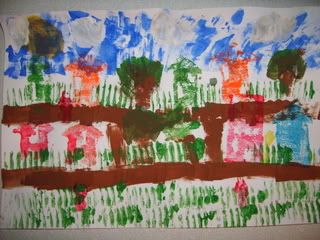 We didn't get any further on the Lewis and Clark lapbooks, but we are hard at work on those this week.
Oh another neat event was that Holly changed her caterpillar zoo, allowing them to have more room to roam. Thanks to Costco's All American Chocolate Cake (our favorite chocolate cake), they have a wonderful new home.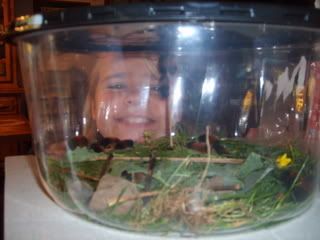 Next week we are starting a study on Russia. The kids can't wait to get started on this fun study! And as a added bonus, Russia is the country Jessica choose to study for her Elementary Report Writing topic with her
Home2Teach
class. Therefore Jessica will not only have a completed notebook on Russia but also a wonderful report to boot! We will post her report at the end of the study.
That is all we have for last week... Short and sweet!