We are visiting a friend today and my girlfriends husbands LOVES my Christmas Wreath cookies. I meant to make these during the day on Monday, but time just slipped by me... So at 9:30pm last night my darling helpful little girl came to my aid.
BTW, these are my favorite cookies too. My family has been making them every year since I was a little girl. Probably even before I was born. My mom doesn't care to make them any more, so now it up to me to make them and pass the tradition onto my family.
Here are some photo's of Jessica helping me. Following the photo's will be the recipe. Have fun making these YUMMY cookies with your children.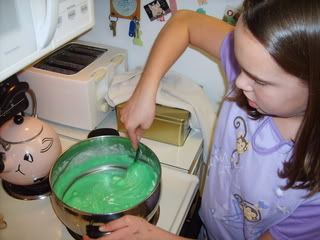 (Above) Added the cornflakes and STIRRING more. Boy it gets hard to stir.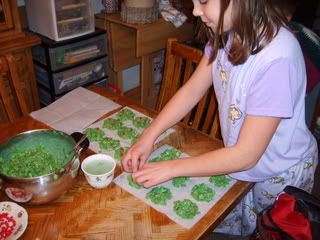 (Above) Shaping the wreaths and adding the cinn. dots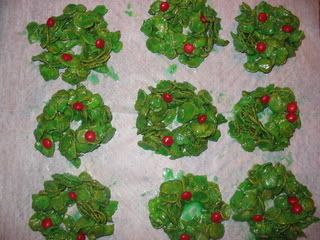 Christmas Wreaths Cookies
30 marshmallows
3 1/2 c corn flakes
1/2 c butter or marg. (butter is better)
Green food coloring
Red Cinn Dots
Stir over med low heat until butter and mellows are melted. Add food coloring for desired color. Add corn flakes and stir until well coated. Shape into wreaths on wax paper and add 3 cinn dots to the top.
When wreaths dry, just cut the paper around the wreath. Leave the wax paper on the bottom of the wreath.
NOTE: When I make this, I always double it. Some times I substitute Mini M&M's for the red hots. And have a cup of cold water by you to help you shape the wreaths with ease.